Jobs in Germany: search, job offer, vacancies in Germany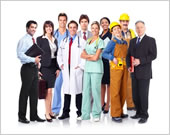 Information on the page:
Selecting categories:
News:
Work in Germany - this section of the online newspaper is dedicated to finding and offering jobs in Germany and abroad. It appeals to both migrants in Germany who are looking for work, and those who want to change something in their professional career or find a part-time job in their spare time. Foreign citizens who have the opportunity to travel abroad and the opportunity to work in Germany, can find something they may be interested in this section, as well as in the sections: mediation and assistance in employment.
All job offers are subdivided into three main large groups: skilled labour, unskilled work and employment assistance. Individual categories include ads for jobs on the Internet, offers of occasional employment or seasonal work, and jobs for residents of certain countries.
Employers, as well as recruitment firms, will find categories where they can offer their services or vacancies to the site users. Business cooperation proposals are available in a dedicated section of the online newspaper. Questionnaires placed in different categories also contain a lot of offers regarding skilled labour in different professions.
Information on the minimum and average wages or salaries in Germany by occupation, as well as other information on wages and salaries in the country.
Each ad can be placed on your favourites list or printed out. Please note that despite the fact that we remove all ads that appear to be suspicious to us, there may still be scam offers, so be careful.
Select the desired sub-category to view ads
Temporary, casual work:

Part time (

101

)
Secondary work at weekends (

69

)
Seasonal, temporary (

115

)

Skilled work:

In social sphere (

79

)
Doctor and nurse vacancies (

198

)
Engineer vacancies (

129

)
Driver, trucker (

358

)
Guide, interpreter (

103

)
Manager, executive (

177

)
Construction (

469

)
Scientific employees (

19

)
Hairdresser, cosmetologist (

106

)
Cook, pastry chef (

154

)
Teacher, coach (

121

)
Programmers, designers (

123

)
Toastmaster, dancer, singer (

138

)
Artist, writer, musician (

88

)
Seamstress, cutter (

78

)
Economist, accountant (

70

)
Vacancies miscel. (

252

)

Unskilled work:

Maid, receptionist (

136

)
Courier (

65

)
Installation (

102

)
On the farm (

122

)
Nanny, nurse (

510

)
Kitchen help, waiter (

65

)
Handyman at a warehouse (

148

)
Advertising distributor (

11

)
Cleaning of apartments, offices (

144

)
Housemaster, janitor (

85

)
Work from home (

102

)
Unskilled any (

220

)
Latest updates in the section: