Directory of sites in Germany | sites of migrants in Germany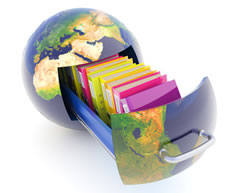 Information on the page:
Selecting categories:
News:
Directory of foreign-language sites in Germany - this section of the online newspaper contains reports on the sites of interest to migrants and foreigners in Germany. The directory is subdivided into sections representing various areas of interests, including auto sites, sites devoted to the study of the German, English, Polish and Russian languages, sites that provide information support to emigrants arriving from the CIS and other countries in Germany. Individual categories are devoted to the German literature and art; the sites of Russian-speaking scientific societies in the country are brought together. Net surfers will find useful lists of sites, which are catalogues of online stores, classifieds sites, etc., targeted at foreign-language residents of the country.
Besides, the directory contains messages about sites, though from foreign countries, yet, of interest to the residents of Germany. We are pleased to include in our directory new interesting sites that fall into the sphere of interests of expats in Germany. Outdated or inaccessible sites are excluded from the headings and the links to them are temporarily deleted during regular checks.
Select the desired sub-category to view
Cars, transport:

Auto sites (

8

)

Business, entrepreneurship:

Companies directories (

19

)

Household needs:

Health, beauty:

Health (

4

)

Information:

History, literature (

15

)
Sites about science (

4

)
TV, newspapers and magazines (

38

)
Forums (

6

)

Computers, Internet:

The Internet (

5

)
Websites on programming (

2

)

Public events:

Concerts, theater (

15

)

Music:

Music sites (

5

)

Help to immigrants:

Foreign, German language (

11

)

Travel, recreation:

Travel sites (

14

)
Sports, fishing (

2

)

Miscellaneous:

Personal (

2

)
Different sites (

7

)

Finance:

Finance (

6

)