Real estate in Germany: rent, purchase and sale, agency services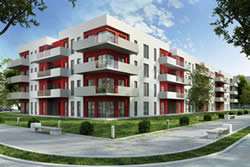 Information on the page:
Selecting categories:
News:
Real estate in Germany - this section of the online newspaper is dedicated to the real estate market in Germany and abroad. The section contains advertisements about the purchase and sale of apartments, houses, and industrial business real estate, as well as rental of residential and industrial property in the country. In dedicated sections you can find information about private agents and large real estate agencies in Germany and abroad.
This section will appeal to everyone who is interested in purchasing houses, villas, apartments, as well as other real estate, both domestically, in Germany, and abroad.
Select the desired sub-category to view ads
Rental property:

Rent out, hire an apartment (

561

)
Rent out, hire a room (

247

)
Rent of land, a garage (

3

)
Rental property (

65

)
Real estate rentals abroad (

68

)

Buy, sell real estate in Germany:

Cottages, land plots (

20

)
Houses, villas (

107

)
Building land (

47

)
Flats, apartments (

154

)
Real estate from realtors (

66

)

(looking to) Buy, sell real estate abroad:

Real estate in Austria (

4

)
Real estate in Belarus (

33

)
Real estate in Greece (

19

)
Real estate in Egypt (

12

)
Real estate in Israel (

5

)
Real estate in Spain (

46

)
Real estate in Italy (

26

)
Real estate in Russia (

304

)
Real estate in Turkey (

39

)
Real estate in France (

8

)
Real estate in Ukraine (

107

)
Villas, houses by the sea (

92

)
International property (

137

)

Property for business:

Real estate for business (

42

)
Quarries, deposits (

7

)
Hotels (

52

)
Premises and buildings (

7

)

Real estate exchange:

International exchange (

78

)
Latest updates in the section: